July 01, 2005
Welcome to SaveEdens.com!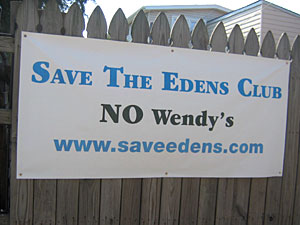 Tucked away in this small corner of cyberspace, you'd landed upon SaveEdens.com. Perhaps you're here because of the banner located outside the health club or maybe an acquaintance told you about the website. In either case, thanks for visiting!

SaveEdens.com was created to coordinate information regarding the future of the Edens Athletic Club in Chicago, IL. My name is Steve Tanner, your host at this handy Internet destination. My wife Amy and I have been club members for the past few years. In my non-sweaty, professional life, I actually work with the Web, so when the call went out to help save the club against the evils of square hamburgers, well, I raised my hand.

I'll be your host here at SaveEdens.com, providing a conduit of information regarding various efforts to keep Edens open. As referenced in the Nadig Newspapers article (Press, 6/29: Athletic club reported sold for restaurant), club member Joe Gill has been a vocal advocate for keeping the club open. As such, I'll be in touch with Joe on a continual basis to provide information "straight from the Joe's mouth" here on the website. You are also welcome to contribute ideas, news, information, and comments via the "Contact Us" form on the left side of this page.

Thanks again for your interest and involvement!

Posted by Tannerman at 05:00 AM | Comments (1) | Trackback
July 14, 2005
Request for Continuance on Special Use Request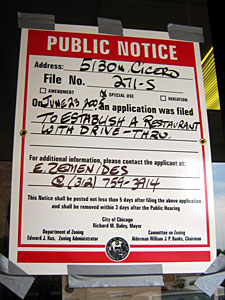 A meeting was held on Tuesday, July 5, with the alderman, community neighbors, TCA CEO, and others associated with the future of the Edens Athletic Club. One point of discussion was the July 15 meeting of the Zoning Board of Appeals to consider the request for a special use (regarding Wendy's wanting a drive through on the property).
A continuance of 60 days was planned to be requested at the July 15 meeting to allow more discussion on the topic with the community and club members. That would result in the next Zoning Board decision being made around September 15.

Posted by Tannerman at 03:56 PM | Comments (0) | Trackback
July 15, 2005
What can you do?
So, with everything going on right now, what can you do? Those involved in the Save Edens initative offer the following suggestions:
Spread the word to others about the club's situation
Talk to folks around the club, including residents and businesses
Contact the alderman and other city officials, voicing your concerns
Communcate with local media outlets and community clubs
Continue to utilize the club's facilities
Share your stories and suggestions via the "Contact Us" form
Remember, the first step in this battle is preventing the special use permit from being issued for a drive through. It's not over yet, folks!
Posted by Tannerman at 11:09 AM | Comments (0) | Trackback
July 15, 2005
Continuance Approved; Backing Grows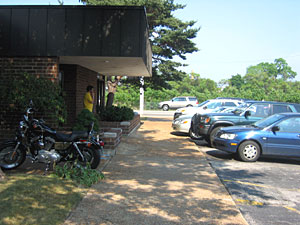 Today, the continuance for discussion of the special drive through use of the property was formally approved for 60 days, according to Joe Gill. Alderman Pat Levar put in the request with the Zoning Board and this was accepted.
Additionally, a meeting was held yesterday (July 14) among the group of potential private investors who would like to purchase the club. Discussions were positive and insightful. Numerous financial institutions have provided the group with a verbal "OK" for backing in addition to the private parties who have already offered their financial support. Other details best remain undisclosed at this time for privacy reasons.

Posted by Tannerman at 1:15 PM | Comments (0) | Trackback
July 16, 2005
Correction: 90-day Continuance
Just a correction... the continuanace that was issued on July 15 was actually for 90 days, not 60. This means that the Zoning Board will address the drive through issue around October 15.
Posted by Tannerman at 3:58 PM | Comments (0) | Trackback
July 21, 2005
Group Excercise?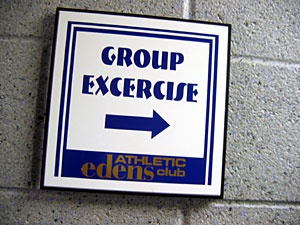 No matter how it's spelled, you'll need more of it if you eat regularly at Wendy's!

(For the record, the correct spelling is exercise)
Posted by Tannerman at 9:11 AM | Comments (0) | Trackback
July 21, 2005
Seen around the club
Earlier in the week, the following announcement was posted around the inside of the club in various locations: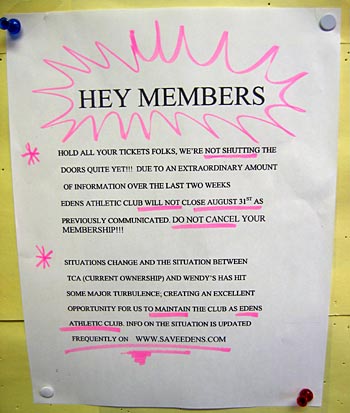 Here's the text transcribed from that announcement:
Hey Members

Hold all your tickets folks, we're not shutting the doors quite yet!!! Due to an extraordinary amount of information over the last two weeks, Edens Athletic Club will not close August 31st as previously communicated. Do not cancel your membership!

Situations change and the situation between TCA (current ownership) and Wendy's has hit some major turbulence, creating an excellent opportunity for us to maintain the club as Edens Athletic Club. Info on the situation is updated frequently on www.saveedens.com.
I've noticed that later in the week, this annoucement had been "truncated" to remove the final paragraph.

Anyone care to drop us a line regarding who typed this up? Why it was shortened? Enquiring minds want to know! Use the Contact Us form to the left or simply leave a Comment. Thanks!

Posted by Tannerman at 9:29 AM | Comments (0) | Trackback
July 21, 2005
Mark Your Calendars: Zoning Board Date Set!

Local resident Wesley C. Zameda (referenced in this Pioneer Press article) posted a comment here on SaveEdens.com regarding the date/time of the next Zoning Board hearing. Current Scheduled Date: Friday, October 21 at 2:00 p.m. Thanks for the info, Wesley!

Posted by Tannerman at 09:39 AM | Comments (2) | Trackback
July 29, 2005
Official message from Club Manager
Steve Brady, Club Manager at Edens Athletic Club, affixed his name to the following announcement posted around the club: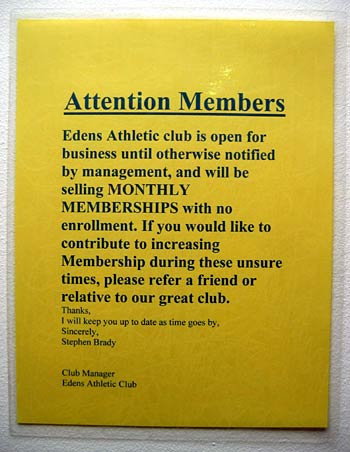 Here's the text transcribed from that announcement:
Attention Members

Edens Athletic Club is open for business until otherwise notified by management, and we will be selling Monthly Memberships with no enrollment. If you would like to contribute to increasing Membership during these unsure times, please refer a friend or relative to our great club.

Thanks, I will keep you up to date as time goes by.

Sincerely,
Stephen Brady
Club Manager
Edens Athletic Club
Posted by Tannerman at 12:02 PM | Comments (0) | Trackback
August 03, 2005
What's the deal with Monthly Memberships?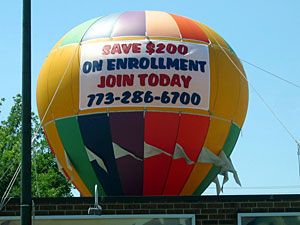 As your host here at SaveEdens.com, allow me to editorialize just a bit. These are my thoughts and no one else's, so please, if you must send hate mail, just use the Contact Us form! :)
Recently, current management at Edens Athletic Club started marketing the concept of "Monthly Memberships" with discounts on the initiation fee. Internally, these new memberships are being promoted by signage posted around the club with a personal plea from Club Manager Steve Brady.
Externally, the club has spent some cash on an inflatable hot air balloon sign on the roof encouraging newcomers to "Join Today". There is also signage on the outside of the building facing Cicero Ave. advocating the new monthly terms.
Overall, this is an interesting development by TCA. It's presented by management as a way to "increas[e] Membership during these unsure times." If TCA was so sure the deal with Wendy's was going to be successful, then why market the facilities to potential new members who may be left high-and-dry in just a few months? Maybe it's just a short-term reaction to the seemingly mass exodus of members that has
occurred since the Wendy's deal became public knowledge.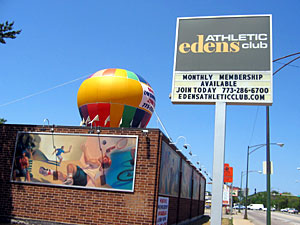 Speaking personally as a club member, I wouldn't blame those who left the club after the news hit the press on June 29. Those of us who were members had no heads-up regarding the decision and most likely felt betrayed by the club. Would you continue to put your trust in such an organization? My sister works with management in the athletic club industry and recently summarized the way this whole scenario was handled by TCA as... "odd." I think most of us involved as club members would tend to agree. It's really a weird situation.
Accordingly, we're now in a time when everything seems to be in limbo. The next Zoning Board meeting is not until Friday, October 21 at 2:00 p.m. (mark your calendars!). Obviously, there are conversations being held behind the scenes by all the parties involved that most of us will never know about. Every now and then more information gets publicly released via a newspaper article or club announcement, but for the most part, things are quiet. In the meantime, many of us just continue to keep our patterns, whether that be playing racquetball or working out on a regular basis. Uncertain of what
lies ahead.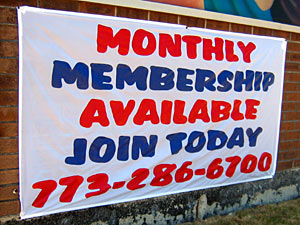 It's an odd feeling for everyone. But remember this... we're all in it together! (Even Alderman Levar has been quoted as "leaning against" the Wendy's proposal). So don't lose heart over the uncertainty. I don't see a bright shining sign proclaiming "Old Fashioned Hamburgers" lurking over Cicero Ave. yet!
Keep letting your friends and neighbors know about the situation. Make sure they contact the alderman's office and make their feelings known about the Health Club-to-Wendy's scenerio. Alderman Levar's phone number is 773.545.2545 and his e-mail is plevar@cityofchicago.org. Don't just sit there like someone slurping down a Frosty... be active!

Posted by Tannerman at 6:09 PM | Comments (1) | Trackback
August 10, 2005
Welcome Press Readers!
Here at SaveEdens.com our thanks go out to Bill Griesnauer, who was gracious enough to include a little blurb about this website in his "Forest Glen Gleanings" column (Press, August 10, Page 7). When I was a kid, my first job was delivering the Press newspapers to a local neighborhood. My younger sister tells me it was hard work, given that I coaxed her into helping back then! :) But I digress...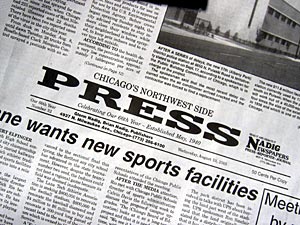 To those of you who have discovered this website because of Bill's column, welcome! To get you up-to-speed on the health club-to-Wendy's situation, I'd recommend reading the various articles in our Media Coverage section, including Press, 6/29: Athletic club reported sold for restaurant, Pioneer Press, 7/14: Goodbye fitness club, hello Wendy's burgers, and Press, 7/27: Mention of Wendy's continuance.
In short, the club owner, TCA, wants to sell the club to Wendy's because it's losing money. Obviously, club members and local residents aren't so big on the idea for various reasons. The Wendy's deal is contingent on the city approving a drive-through lane for the location. Accordingly to reports, if that approval is not granted, then the Wendy's deal is off. At the same time, some private parties are investigating the idea of purchasing the club from TCA and keeping it a fitness facility.
What can you do? Probably the easiest thing is to give our friend Alderman Patrick Levar a call (773.545.2545) and let him know about your concern over the Wendy's situation. You can e-mail him too at plevar@cityofchicago.org. Neighborhood feedback weighs heavily into decisions by the Zoning Board of Appeals. At the same time, spread the word about the situation to your friends, associates, and even your next door neighbor. Feeling a little more aggressive? Give the Zoning Board of Appeals a call as well at 312.744.3888. Finally, post your comments here on SaveEdens.com so they can be read by others. Forming a strong community effort is part of the reason this website is in place.
Continuing the battle against "Biggie"-sizing our traffic and neighborhood experience...
Posted by Tannerman at 4:16 PM | Comments (0) | Trackback
September 22, 2005
TCA makes it official: Edens to close
A few weeks ago, TCA seemed to make up their minds and decided to just close the club, after failing to come to agreement with the private group that wanted to purchase the clue. Here is the text of the letter sent to club members:
September 6, 2005

RE: Closing Edens Athletic Club

Dear [Club Member], The health club industry has experience explosive growth in the number of new clubs over the last several years. This has created an over supply of clubs in many markets and the Edens market area is no exception. Our small size and racquetball/handball emphasis created an intimate atmosphere, which we all like.

However, Edens is not well positions to be competitive with Bally's, Xsport, Galter, Curves, Lifetime and other planned new clubs. Edens has not made a profit for over five years, and we have made the difficult decision to close the club. The last day the club will be open for operation will be September 20, 2005 until 5:00 p.m.

A group of members expressed some interest in purchasing the club, but was unable to put an offer together. A neighbor launched a "save Edens" campaign, which has had the unfortunate effect of accelerating the loss of members; the opposite of their intent.

To help you continue with your commitment to a healthy lifestyle, we have arranged for a special offer with Bally Total Fitness. Please see the attached letter for me details.

Once again, I want to thank you for your support over the years. We wish you well.

Sincerely,

TCA

Steven L. Schwartz
President

SLS:pla
Posted by Tannerman at 10:14 AM | Comments (0) | Trackback
September 22, 2005
Commentary from SaveEdens.com (9/22)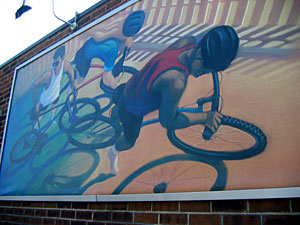 Here at SaveEdens.com, our slogan has been "Working to keep Edens Athletic Club open and Wendy's-free." In light of TCA's letter dated September 6, it doesn't seem like the first part is going to happen, unfortunately.
I actually chuckled at some of the things mentioned in that notification, not that Mr. Schwartz cares. His subtle jab at the whole Save Edens campaign was particularly enjoyable: A neighbor launched a "save Edens" campaign, which has had the unfortunate effect of accelerating the loss of members; the opposite of their intent. I would tend to disagree with that statement. I believe the first public notification of the club being sold/redeveloped happened on June 29, with the article in the Press entitled Athletic club reported sold for restaurant. The SaveEdens.com domain name wasn't registered until July 5, with banners promoting the website and the "Save the Edens Club" campaign showing up shortly after that.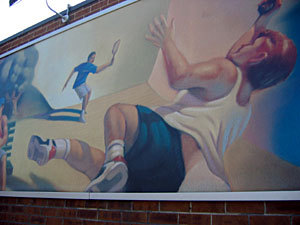 I'd argue that the club announcing that they were selling out would probably be the more accurate reason for "accelerating the loss of members." Anybody could pretty much conclude that. (Well, maybe not someone who couldn't figure out how to make the club profitable in 5 or 10 years, depending on which source you trust).
Of course, the departure of members would also have nothing to do with the fact that since the announcement back in June, general club maintenance and upkeep went to the wayside. After all, why bother to maintain the place even though contracts were in place with club members to provide these services? What's a dirty shower, broken equipment, or even poorly connected television units got to do with member retention anyway? Gee, I don't know why people wouldn't want to stay around for that! Yep, must be that darn website and those folks who wanted to keep the club around. Yup, that's the real reason everyone left!
Give me a break.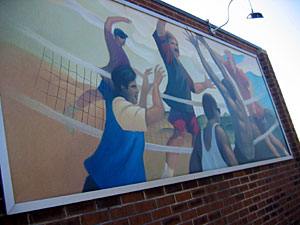 It boils down to the fact that seemingly Mr. Schwartz wanted to "take his ball and go home." A deal couldn't be worked out with Joe Gill and his team to sell the club. That's all we really know. Why that couldn't be resolved no one is open to say. God forbid that the community actually get a little riled up at the idea of dumping a Wendy's into their backyards. I really can't understand why there would be any offense at that. Have you ever lived next to a fast food joint, Mr. Schwartz? Probably not, I would assume. You might want to consider working in one, however, and spend a little time learning about customer satisfaction.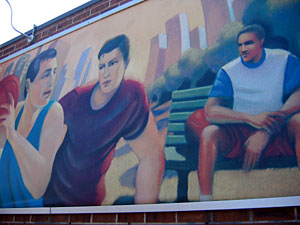 Moving on, the second part of our slogan here at SaveEdens.com is still valid at this point. That whole "Wendy's-free" thing. And last time I checked, that Zoning Board meeting wasn't until Friday, October 21 at 2:00 p.m. I grew up in the Forest Glen neighborhood nearby and the last thing we need around there is more traffic being generated off Cicero Ave. or the stench of greasy burgers. I can see it now: "Eat fatty hamburgers, now on land leased from a heath club conglomerate!" I doubt that will be showing up as a TCA press release any time soon. (Not that you'd be able to read it on TCA's corporate or Edens websites anyway, which seem to have been designed by a 4-year old when it comes to navigation and organization of information.)
So while the club may be going away, and folks have found other places to workout, we still have this little Wendy's issue to consider. So keep up the pressure on the alderman folks. Keep those petitions circulating. And let's see what happens!

Posted by Tannerman at 11:22 AM | Comments (0) | Trackback
October 3, 2005
"Thank you for your patronage"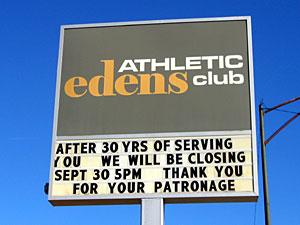 Posted by Tannerman at 2:23 PM | Comments (0) | Trackback
April 08, 2006
Ecotek is coming!
With the recent news that the Edens Athletic Club property has been sold, the Ecotek folks haven't wasted any time putting their "coming soon" brand all over the building.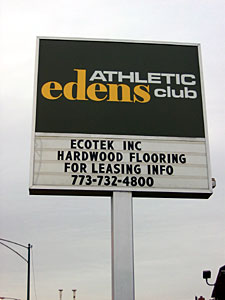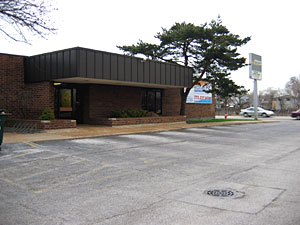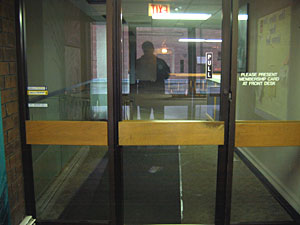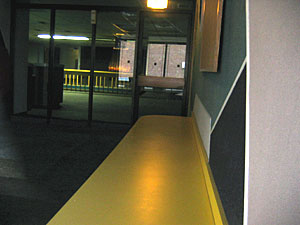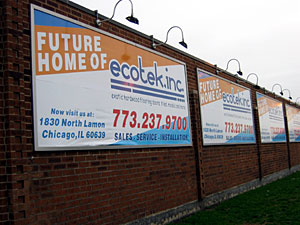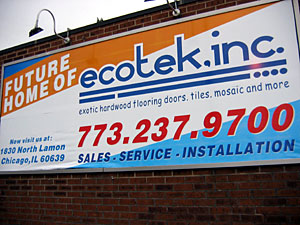 Posted by Tannerman at 6:11 PM | Comments (0) | Trackback