August 10, 2005
Welcome Press Readers!
Here at SaveEdens.com our thanks go out to Bill Griesnauer, who was gracious enough to include a little blurb about this website in his "Forest Glen Gleanings" column (Press, August 10, Page 7). When I was a kid, my first job was delivering the Press newspapers to a local neighborhood. My younger sister tells me it was hard work, given that I coaxed her into helping back then! :) But I digress...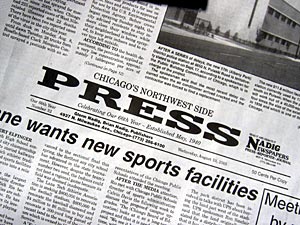 To those of you who have discovered this website because of Bill's column, welcome! To get you up-to-speed on the health club-to-Wendy's situation, I'd recommend reading the various articles in our Media Coverage section, including Press, 6/29: Athletic club reported sold for restaurant, Pioneer Press, 7/14: Goodbye fitness club, hello Wendy's burgers, and Press, 7/27: Mention of Wendy's continuance.
In short, the club owner, TCA, wants to sell the club to Wendy's because it's losing money. Obviously, club members and local residents aren't so big on the idea for various reasons. The Wendy's deal is contingent on the city approving a drive-through lane for the location. Accordingly to reports, if that approval is not granted, then the Wendy's deal is off. At the same time, some private parties are investigating the idea of purchasing the club from TCA and keeping it a fitness facility.
What can you do? Probably the easiest thing is to give our friend Alderman Patrick Levar a call (773.545.2545) and let him know about your concern over the Wendy's situation. You can e-mail him too at plevar@cityofchicago.org. Neighborhood feedback weighs heavily into decisions by the Zoning Board of Appeals. At the same time, spread the word about the situation to your friends, associates, and even your next door neighbor. Feeling a little more aggressive? Give the Zoning Board of Appeals a call as well at 312.744.3888. Finally, post your comments here on SaveEdens.com so they can be read by others. Forming a strong community effort is part of the reason this website is in place.
Continuing the battle against "Biggie"-sizing our traffic and neighborhood experience...
Posted by Tannerman at 4:16 PM | Comments (0) | Trackback