July 21, 2005
Seen around the club
Earlier in the week, the following announcement was posted around the inside of the club in various locations: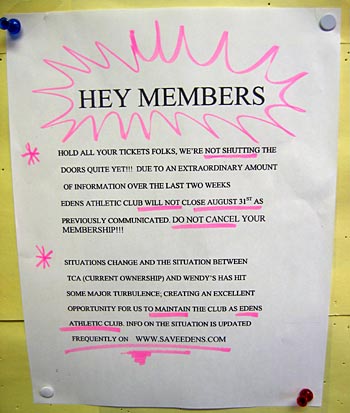 Here's the text transcribed from that announcement:
Hey Members

Hold all your tickets folks, we're not shutting the doors quite yet!!! Due to an extraordinary amount of information over the last two weeks, Edens Athletic Club will not close August 31st as previously communicated. Do not cancel your membership!

Situations change and the situation between TCA (current ownership) and Wendy's has hit some major turbulence, creating an excellent opportunity for us to maintain the club as Edens Athletic Club. Info on the situation is updated frequently on www.saveedens.com.
I've noticed that later in the week, this annoucement had been "truncated" to remove the final paragraph.

Anyone care to drop us a line regarding who typed this up? Why it was shortened? Enquiring minds want to know! Use the Contact Us form to the left or simply leave a Comment. Thanks!

Posted by Tannerman at 9:29 AM | Comments (0) | Trackback