August 03, 2005
What's the deal with Monthly Memberships?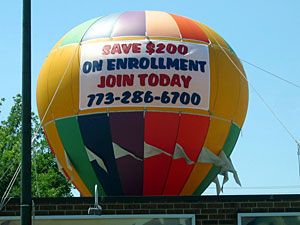 As your host here at SaveEdens.com, allow me to editorialize just a bit. These are my thoughts and no one else's, so please, if you must send hate mail, just use the Contact Us form! :)
Recently, current management at Edens Athletic Club started marketing the concept of "Monthly Memberships" with discounts on the initiation fee. Internally, these new memberships are being promoted by signage posted around the club with a personal plea from Club Manager Steve Brady.
Externally, the club has spent some cash on an inflatable hot air balloon sign on the roof encouraging newcomers to "Join Today". There is also signage on the outside of the building facing Cicero Ave. advocating the new monthly terms.
Overall, this is an interesting development by TCA. It's presented by management as a way to "increas[e] Membership during these unsure times." If TCA was so sure the deal with Wendy's was going to be successful, then why market the facilities to potential new members who may be left high-and-dry in just a few months? Maybe it's just a short-term reaction to the seemingly mass exodus of members that has occurred since the Wendy's deal became public knowledge.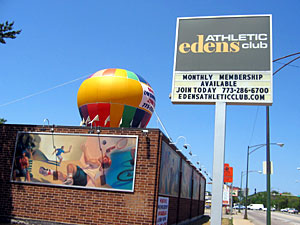 Speaking personally as a club member, I wouldn't blame those who left the club after the news hit the press on June 29. Those of us who were members had no heads-up regarding the decision and most likely felt betrayed by the club. Would you continue to put your trust in such an organization? My sister works with management in the athletic club industry and recently summarized the way this whole scenario was handled by TCA as... "odd." I think most of us involved as club members would tend to agree. It's really a weird situation.
Accordingly, we're now in a time when everything seems to be in limbo. The next Zoning Board meeting is not until Friday, October 21 at 2:00 p.m. (mark your calendars!). Obviously, there are conversations being held behind the scenes by all the parties involved that most of us will never know about. Every now and then more information gets publicly released via a newspaper article or club announcement, but for the most part, things are quiet. In the meantime, many of us just continue to keep our patterns, whether that be playing racquetball or working out on a regular basis. Uncertain of what
lies ahead.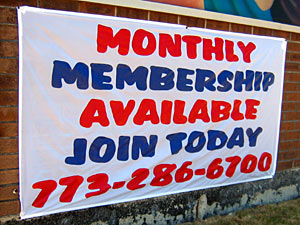 It's an odd feeling for everyone. But remember this... we're all in it together! (Even Alderman Levar has been quoted as "leaning against" the Wendy's proposal). So don't lose heart over the uncertainty. I don't see a bright shining sign proclaiming "Old Fashioned Hamburgers" lurking over Cicero Ave. yet!
Keep letting your friends and neighbors know about the situation. Make sure they contact the alderman's office and make their feelings known about the Health Club-to-Wendy's scenerio. Alderman Levar's phone number is 773.545.2545 and his e-mail is plevar@cityofchicago.org. Don't just sit there like someone slurping down a Frosty... be active!

Posted by Tannerman at 6:09 PM | Comments (1) | Trackback
Comments
Apparently, TCA is closing the club effective September 30. Staff just got their letters announcing this! But yet, fearless leader Steve will continue to keep us updated and enourgaes us to tell our friends and neighbors. What gives?
Posted by: Christy at September 8, 2005 10:32 AM