July 01, 2005
Welcome to SaveEdens.com!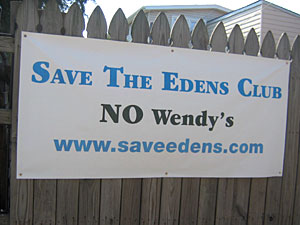 Tucked away in this small corner of cyberspace, you'd landed upon SaveEdens.com. Perhaps you're here because of the banner located outside the health club or maybe an acquaintance told you about the website. In either case, thanks for visiting!

SaveEdens.com was created to coordinate information regarding the future of the Edens Athletic Club in Chicago, IL. My name is Steve Tanner, your host at this handy Internet destination. My wife Amy and I have been club members for the past few years. In my non-sweaty, professional life, I actually work with the Web, so when the call went out to help save the club against the evils of square hamburgers, well, I raised my hand.

I'll be your host here at SaveEdens.com, providing a conduit of information regarding various efforts to keep Edens open. As referenced in the Nadig Newspapers article (Press, 6/29: Athletic club reported sold for restaurant), club member Joe Gill has been a vocal advocate for keeping the club open. As such, I'll be in touch with Joe on a continual basis to provide information "straight from the Joe's mouth" here on the website. You are also welcome to contribute ideas, news, information, and comments via the "Contact Us" form on the left side of this page.

Thanks again for your interest and involvement!

Posted by Tannerman at 05:00 AM | Comments (1) | Trackback
July 05, 2005
Press, 6/29: Athletic club reported sold for restaurant
Athletic club reported sold for restaurant
by Robert Elfinger
June 29, 2005

The Edens Athletic Club, 5130 N. Cicero Ave., is tentatively scheduled to close on Aug. 31, and the facility could be demolished soon after to make way for a Wendy's restaurant. The Chicago-based Tennis Corporation of America, which owns the health club, reportedly has a contract to sell the property to Wendy's for $1.4 million. The contract is contingent on Wendy's obtaining a special-use for a drive-through facility, according to 45th Ward aldermanic aide Terry Boyke. The request for a special use is on the agenda for the July 15 meeting of the Zoning Board of Appeals.

Edens is a full-service health club which has been open for more than 30 years. Its proximity to the Edens Expressway has made it popular with commuters who stop in after work to exercise and avoid rush hour traffic, and it also is popular with area residents.

Some neighborhood residents have begun a petition drive opposing the use of the property as a restaurant. The residents, who would prefer that another health club purchase the site, are particularly opposed to the proposed drive-through.

"In today's world what do we need more, another fast-food restaurant or a health club?" said Forest Glen resident Betty Ginden, who works at the club. "It's a shame. For a lot of the older residents, it's a sanctuary and the only place (in the neighborhood) where they can go to exercise."

Club manager Joe Gill is attempting to put together a group of investors, including club members, to buy the club and keep it open. "I want TCA to sell my group the club," Gill said. "If they're going to sell it to Wendy's, why not sell it to us?"

Gill said that he does not know how far along the sale is or if it could be stopped. "The membership wasn't aware the Wendy's was coming in," he said. "TCA didn't tell us."

Officials from Tennis Corporation of America and Wendy's did not return calls seeking comment.

Boyke said that Levar has met with Wendy's officials but that he has not formed an opinion on the proposal. "They have not submitted plans or traffic studies to the aldermen yet," he said.

Boyke said that drive-through permits are difficult to contest and are routinely granted by the zoning board. He said that Levar will at least ensure that there will be no access to restaurant parking lot from the alley.

Gill hopes that he can earn the support of the alderman and the community and pressure TCA to discuss selling the club to him and his investors. "As long as the wrecking ball doesn't go through it, we'll keep it running."
Source: Nadig Newspapers
Posted by Tannerman at 02:10 PM | Comments (0) | Trackback
July 14, 2005
Request for Continuance on Special Use Request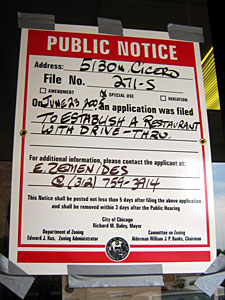 A meeting was held on Tuesday, July 5, with the alderman, community neighbors, TCA CEO, and others associated with the future of the Edens Athletic Club. One point of discussion was the July 15 meeting of the Zoning Board of Appeals to consider the request for a special use (regarding Wendy's wanting a drive through on the property).
A continuance of 60 days was planned to be requested at the July 15 meeting to allow more discussion on the topic with the community and club members. That would result in the next Zoning Board decision being made around September 15.

Posted by Tannerman at 03:56 PM | Comments (0) | Trackback
July 14, 2005
Pioneer Press, 7/14: Goodbye fitness club, hello Wendy's burgers
Goodbye fitness club, hello Wendy's burgers
by Amy Le
July 14, 2005

While Wendy's advertising slogan says, "Do what tastes right," a group of Forest Glen residents say they're not interested in what the fast food giant is serving.

Last week Edens Athletic Club members and neighbors trickled into Wesley Zameda's backyard for an impromptu community meeting. Zameda helped to organize the July 5 gathering after learning that a Wendy's fast food restaurant would be taking over the space of the current Edens Athletic Club, 5130 N. Cicero Ave.

Zameda's property, along with several other homes on the 5100 block of North LaCrosse Avenue, sits directly behind the neighborhood fitness club.

"We've got serious issues with this (Wendy's) deal," he said. "Everyone tells me that it's a done deal and there's nothing we can do. But this is where we live and we're not going to just sit back and give our stamp of approval."

Zameda, who spoke on behalf of the residents, said they are concerned with the amount of traffic, smell and noise the fast food giant could bring to the neighborhood.

Steven Schwartz, President and CEO of Chicago-based Tennis Corporation of America, told Pioneer Press that his company signed a 15-year lease with Wendy's International Inc. last April. TCA owns and operates more than 40 upscale multi-recreational health and racquet clubs in North America.

Schwartz came to the neighbors meeting and said that, contrary to published reports, the company did not sell the property to Wendy's for $1.4 million.

"There's a lot of misinformation floating around and I'm here today to answer any questions (the residents) have," he said. "We're not trying to be sneaky about this deal."

Zoning action

The lease with Wendy's is contingent upon the company obtaining a special-use permit for a drive-through facility.

The request for a special use is on the agenda for the July 15 meeting of the city's Zoning Board of Appeals. But the 45th Ward alderman Patrick Levar told residents at the meeting he would request a continuance of 60 days to help resolve the community's concerns.

The alderman said he is also planning to arrange a meeting of Wendy's, TCA and the neighbors on the block adjacent to the property.

Endy Zemenides, an attorney representing Wendy's [Acosta, Kruse & Zemenides, LLC, One South Wacker Drive, Suite 3890, Chicago, IL 60606, 312.759.3914], said they first met with Levar in early June to notify him of their filing for a special use application.

"Alderman Levar told us... that he doesn't want cars to go through the alley and he wants to keep noise to a minimum," Zemenides said. He said Wendy's already plans to add on a 6-foot fence, landscaping and a curb to prevent cars from traveling through the existing alley.

Moreover, the drive-through window and speakers, which will face the alley, will be set back 88 feet from the rear property line to reduce the effect of noise and lights on neighbors, he said.

Levar said he hasn't seen the formal layout from Wendy's, but he hopes that a community meeting will help residents get more insight into the proposed plans.

Traffic increase

Zameda and other residents are concerned that the addition of a drive-through could bring an influx of traffic on Cicero Avenue, forcing drivers to cut through adjacent residential streets like LaCrosse.

"The other businesses on Cicero Avenue are at the end of the block near Foster and Elston with accessible exits," Zameda said. "The Wendy's will be located near the center of the block and without a 'no left turn sign'; cars trying to exit northbound on Cicero will have to cross a double yellow line, blocking other cars attempting to travel southbound."

Wendy's officials said they have hired a firm to conduct a traffic study, and will submit them to the Chicago Department of Transportation's Review Committee. The study will look at safety of the existing curb cut on the property and traffic flow, Zemenides said.

Based on 1994 CDOT traffic data, Cicero, Foster and Elston avenues see a total average of 137,000 vehicles a day. Traffic count figures could be 5 percent higher due to increased development over the past 10 years in the area, said Maria Castaneda, a spokeswoman for CDOT.

As for the addition of a "no left turn" sign, regardless of what the property is zoned for, Castaneda said, if the business is located at a certain distance from an intersection or the amount of cars turning left may cause interference with oncoming traffic, a sign could be required. But the CDOT Review Committee looks at each proposed project individually to determine recommendations, she said.

CVS courted

Schwartz said a massive decrease in profits at the club lead the company's decision to close the fitness center this year. Edens Athletic Club has been serving the community for more than 25 years and has about 675 registered members. Schwartz, however, said the club would need to see an increase of more than 300 members a year in order to make a profit.

"We made a reinvestment 10 years ago in the club and we thought that we could turn it around, but profits still haven't changed," he said.

At the meeting, a frustrated resident asked Schwartz why a Wendy's was selected, rather than a bank or drug store at the site.

Schwartz said that three years ago, his company tried to get a contract with the CVS Pharmacy chain store, who was interested in leasing the property. But that deal fell apart after neighboring owners couldn't agree on a selling price, he said.

Joe Gill, a former racquetball operation director at the club, said he and other members are interested in proposing a deal to purchase the Edens themselves and to maintain it as a community fitness center.

Schwartz said while he has spoken with Gill, he has not yet seen any formal proposals from him. He added that TCA is "committed" to its contract with Wendy's.

"We can legally look at a backup offer if the Wendy's deal falls through," he said. "But I will only talk with Joe and his partners if they can assure us that they will not try to actively derail the Wendy's contract."

No date has been officially set as to when the club will close, Schwartz said.
Source: Pioneer Press
Posted by Tannerman at 08:40 PM | Comments (0) | Trackback
July 15, 2005
What can you do?
So, with everything going on right now, what can you do? Those involved in the Save Edens initative offer the following suggestions:
Spread the word to others about the club's situation
Talk to folks around the club, including residents and businesses
Contact the alderman and other city officials, voicing your concerns
Communcate with local media outlets and community clubs
Continue to utilize the club's facilities
Share your stories and suggestions via the "Contact Us" form
Remember, the first step in this battle is preventing the special use permit from being issued for a drive through. It's not over yet, folks!
Posted by Tannerman at 11:09 AM | Comments (0) | Trackback
July 15, 2005
Continuance Approved; Backing Grows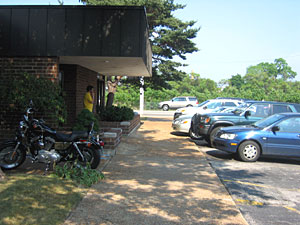 Today, the continuance for discussion of the special drive through use of the property was formally approved for 60 days, according to Joe Gill. Alderman Pat Levar put in the request with the Zoning Board and this was accepted.
Additionally, a meeting was held yesterday (July 14) among the group of potential private investors who would like to purchase the club. Discussions were positive and insightful. Numerous financial institutions have provided the group with a verbal "OK" for backing in addition to the private parties who have already offered their financial support. Other details best remain undisclosed at this time for privacy reasons.

Posted by Tannerman at 1:15 PM | Comments (0) | Trackback
July 16, 2005
Correction: 90-day Continuance
Just a correction... the continuanace that was issued on July 15 was actually for 90 days, not 60. This means that the Zoning Board will address the drive through issue around October 15.
Posted by Tannerman at 3:58 PM | Comments (0) | Trackback
July 21, 2005
Group Excercise?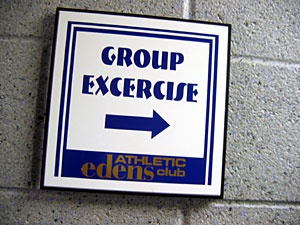 No matter how it's spelled, you'll need more of it if you eat regularly at Wendy's!

(For the record, the correct spelling is exercise)
Posted by Tannerman at 9:11 AM | Comments (0) | Trackback
July 21, 2005
Seen around the club
Earlier in the week, the following announcement was posted around the inside of the club in various locations: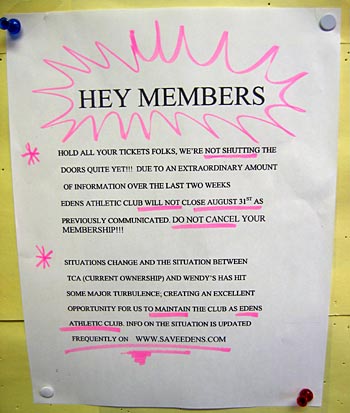 Here's the text transcribed from that announcement:
Hey Members

Hold all your tickets folks, we're not shutting the doors quite yet!!! Due to an extraordinary amount of information over the last two weeks, Edens Athletic Club will not close August 31st as previously communicated. Do not cancel your membership!

Situations change and the situation between TCA (current ownership) and Wendy's has hit some major turbulence, creating an excellent opportunity for us to maintain the club as Edens Athletic Club. Info on the situation is updated frequently on www.saveedens.com.
I've noticed that later in the week, this annoucement had been "truncated" to remove the final paragraph.

Anyone care to drop us a line regarding who typed this up? Why it was shortened? Enquiring minds want to know! Use the Contact Us form to the left or simply leave a Comment. Thanks!

Posted by Tannerman at 9:29 AM | Comments (0) | Trackback
July 21, 2005
Mark Your Calendars: Zoning Board Date Set!

Local resident Wesley C. Zameda (referenced in this Pioneer Press article) posted a comment here on SaveEdens.com regarding the date/time of the next Zoning Board hearing. Current Scheduled Date: Friday, October 21 at 2:00 p.m. Thanks for the info, Wesley!

Posted by Tannerman at 09:39 AM | Comments (2) | Trackback
July 29, 2005
Official message from Club Manager
Steve Brady, Club Manager at Edens Athletic Club, affixed his name to the following announcement posted around the club: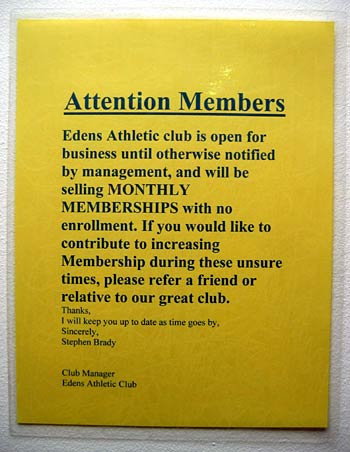 Here's the text transcribed from that announcement:
Attention Members

Edens Athletic Club is open for business until otherwise notified by management, and we will be selling Monthly Memberships with no enrollment. If you would like to contribute to increasing Membership during these unsure times, please refer a friend or relative to our great club.

Thanks, I will keep you up to date as time goes by.

Sincerely,
Stephen Brady
Club Manager
Edens Athletic Club
Posted by Tannerman at 12:02 PM | Comments (0) | Trackback
July 29, 2005
Press, 7/27: Mention of Wendy's continuance
Bank drive-through approved by board
by Brian Nadig
July 27, 2005

The Zoning Board of Appeals at its July 15 meeting approved a special use permit for a drive-through bank at 5745 N. Milwaukee Ave., while a hearing on a proposed Wendy's restaurant at 5130 N. Cicero Ave. was delayed at the request of Alderman Patrick Levar (45th).

...Levar said that due to community opposition he asked the board for a 60-day continuance on the hearing on Wendy's proposal, which calls for the demolition of the Edens Athletic Club building. Some residents have said that the area does not need another fast-food restaurant and that they prefer a new operator be found for the health club. Under the proposal, Wendy's would lease the property from its owner.

The health club had been scheduled to close Aug. 31, but club officials have delayed the closing until the zoning matter is resolved. A club spokesman said that it plans to sell monthly memberships due to the uncertainty surrounding the club's future.

Levar said that he is "leaning against" the Wendy's proposal and that he plans to urge the restaurant chain to search for a more suitable location...
Source: Nadig Newspapers
The article above reports on a 60-day continuance, however more recent reports state a 90-day continuance was issued, resulting in the proposal being raised with the Zoning Board on Friday, October 21 at 2:00 p.m.
Posted by Tannerman at 12:03 PM | Comments (0) | Trackback